Need an auto repair solution in the Boston area? Want to service your car at a dealership with a great reputation right off rt 495? Not worried about a short drive from Nashua NH for a great automotive service experience? That's no problem. At Acton Toyota of Littleton we take care of all makes and models for you. We combine our skill with integrity, giving you the best service you can get in the auto industry.
You shouldn't expect anything less. We are able to provide excellent service for you and your car because we have the knowledge and resources to service any make or model. You won't see a sign on our door discriminating against your car. That is not how we do business. We want your business. We don't want it because we need it. We want it because we want to provide you with the best auto repair service shop near Boston that money can buy. We also enjoy forming new relationships.
So if you're ready to form a solid relationship with an auto repair company, we're here to do just that Monday - Friday, 7:00 AM to 6:00 PM and on Saturday from 7:00 AM to 4:00 PM. Our Service Department can be reached at 978-260-4049 or TOLL FREE at 800-229-6023. Additionally, you can schedule an appointment anytime with our online appointment scheduling service. We're available by email at service@actontoyota.com.
Although we may have moved from Acton Ma to a new larger facility here close to rt 495 and Westford Ma we still hold our small store values only now with more space and amenities for our customers, whether local here in Littleton Ma or traveling from Boston or elsewhere in New England.

Extended Hours of Operation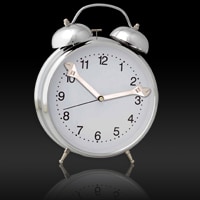 Extended hours of operation are important for both Acton Toyota of Littleton and the customer, which is why we offer them to you. We understand that there might be an issue with finding an auto repair company near Westford Ma that operates during times that are convenient for you.
We know that you may leave for work early or may not get off of work until 5:00 PM or later. That is why we're are open at 7:00 AM Monday through Saturday mornings and available for pick up until 8:00 PM Monday through Thursday, Friday until 7:00 PM, and Saturdays until 5:00 PM. This gives you time to come see us before or after you go to work.
We also know that your car does not break down on a schedule. It is going to break down when it is the least convenient for you and being that you can't wait to take it to an auto repair service shop we make sure you can get it in as soon as possible. In most cases we can offer you same day service and we can also offer you a rental car for as low as $30 per day so that you can drive back and forth to work, get the kids to school, and make sure you pick them up from soccer practice.
Immaculately Clean Shop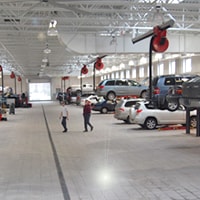 When having your car or truck repaired, you want to find an automotive repair service shop that has an immaculately clean shop. You don't want to walk into a pig sty where the walls, floors, and even the ceiling are caked with dirt, grime, grease, and oil. You want to feel as if the mechanics working at the shop care for their facility. If they care for their facility, that means they're more likely to take care of their customers.
Acton Toyota of Littleton is one of those shops that makes sure we are clean. We want you to walk in and say "Hey, these guys really care for this place." This is because we do care for our place.
We pride ourselves in having one of the premier auto repair service shop capable of servicing Toyota cars and trucks as well as vehicles from all over New England of all makes and models. Whether or not you purchased your vehicle here at Acton Toyota of Littleton Ma is not a factor and we welcome your vehicle for service here.

Large and Comfortable Waiting Areas
Acton Toyota of Littleton prides itself on offering large and comfortable waiting areas for those customers who choose to stay at the dealership while their vehicle is being serviced. We understand folks drive from New Hampshire, Greater Boston or further. Choose from a quiet, "business" center with laptop friendly seating and WIFI or a lounge featuring leather chairs, love seats, and sofas. Watch some TV on our 52" plasma screen while sipping on a freshly brewed Starbucks coffee, cranberry juice, or Tropicana orange juice.
Small children in the family? No problem? We have a separate children's play area to entertain them while you wait. Wander around and admire the new Toyotas and Scions in the showroom, it doesn't cost anything to look and it sure beats the waiting room at the local gas station.
Services Offered
Oil and Lube Service Belt Replacement
Tire Sales and Installation Brakes/Shocks/Struts
Wheel Alignment Mufflers/Exhaust System
Tire Balancing Scheduled Maintenance
Tire Rotation Starters/Alternators
Tune Ups Massachusetts State Inspection
Fuel Injection Cleaning Water Pumps/Radiators
Transmission Flush Toyota Rent-a-car on premises
Battery Replacement Windshield Wiper Replacement
Cooling System Service Hoses & Thermostats
Cooling System Flush


Body Shop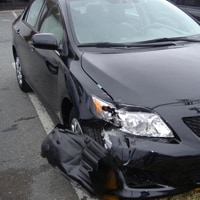 Acton Toyota's former location, 135 Great Road in Acton, MA, now houses a brand new state of the art, full service Body Shop which can handle body repairs from the parking lot ding up to an including major collision damage. You can be confident your vehicle's repairs will be done right using genuine Toyota parts and environmentally friendly paints.