As a perennial recipient of Toyota's Service Excellence Award, the Service Department at Acton Toyota of Littleton delivers exceptional service, quality workmanship, and fair pricing.  We strive to ensure your service experience is prompt, professional, and (dare we say) downright enjoyable.
Acton Toyota thanks and rewards its customers for their business every time with its very own Acton Toyota Loyalty Rewards Program. This exclusive program costs you nothing, has no gimmicks, includes no fine print, and does not demand you to meet unrealistic requirements (i.e. servicing your vehicle at our dealership only and all the time). As customers continue to conduct business with Acton Toyota the money they spend here will immediately translate into points they can then redeem anywhere in the dealership, even on a new vehicle purchase.

 
Click here
to learn more about Acton Toyota's Loyalty Rewards Program.
The Service Department at Acton Toyota is proud to provide its valued customers a host of amenities to keep them satisfied, comfortable, and happy when visiting us for their vehicle's service needs. 
Here are those amenities offered to you when you service with us.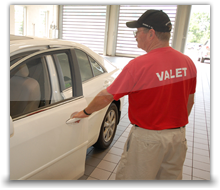 Valet Service
Valet service upon arrival and departure is second to none!
Charles S. Littleton, MA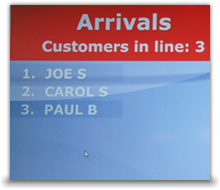 Virtual Line
We love the prompt service each time we come.  Marvel at the fast turn around and precision timing of services.  Don't know how you do it all.  It's great!
Roger W. Hudson, MA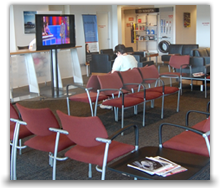 Lounge Area

Thanks again for your top-notch service and comfortable waiting area.  I actually look forward to bringing my car in!
Nancy S. Concord, MA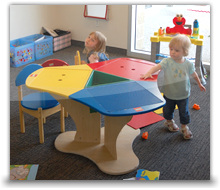 Children's Room
Just moved to the area and found your dealership online.  I was very impressed with the customer service.  So convenient having a play area for the kids - the time flew by and we were out of there quickly. Thanks! We will definitely be back.
Virginia B. Sudbury, MA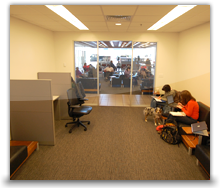 Quiet Business Room
I love the complimentary breakfast and the quiet computer room.  I get more work done at Acton Toyota than in the office.
Marilyn & Lloyd S. Lexington, MA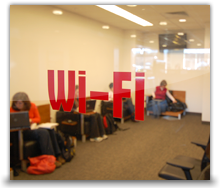 Free WiFi
Free wireless is a genius idea.  I can wait all day and get tons of work done.  Excellent service overall, and your prices are reasonable.  I'll come back over and over.
Barbara H. Acton, MA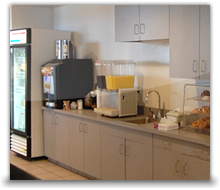 Coffee and Donuts
Quite a dealership!  Great service- wonderful coffee.  I somehow resisted the donuts and free breakfast.  Seriously, a wonderful experience.
Phil C. Wayland, MA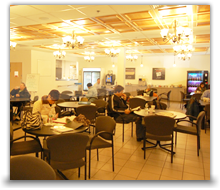 Acton Café
I'm not sure which I appreciate more...the excellent service or the delicious hot breakfast!
Anne B. Concord, MA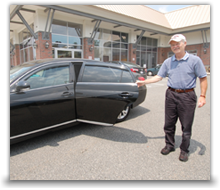 Shuttle Service
The free shuttle service was great!  The driver was prompt, courteous, and pleasant.  This free service saved my family a lot of car juggling and allowed me to pick up my van hours before I could have picked it up if I had to wait for a family member.  Offering this service free of charge is an excellent way to treat your loyal customers.
Regina S. Westford, MA
---