When the dealership designed its state-of-the-art facility, Acton Toyota of Littleton, a premier Toyota dealership conveniently located near Boston, MA and Nashua, NH, included in the plans a large garaged bay where customers could take delivery of their vehicle while sheltered from the outside elements.
However, the delivery bay was painted with stark white walls. "This room is where our customers take delivery of their vehicle. It is an exciting moment for many of them. We want the room itself to mirror this excitement," comments Assistant General Sales Manager of Acton Toyota of Littleton Glenn Hoffman. Hoffman adds, "Unfortunately, as you might have suspected the plain white walls did not accomplish this."
"We knew we wanted more than just bright color on the walls," notes Shawnee Shawndless, Sales Manager at Acton Toyota of Littleton. "However, we weren't sure exactly what we wanted and couldn't settle on a particular idea." Unfortunately, Acton Toyota of Littleton was a victim of artist's block.
Then, Glenn and Shawnee had a moment of clarity. The two decided they would contact local schools and invite some of their arts students to visit the dealership and decorate the delivery bay walls.
After a few phone calls, the two had arranged for art students from Nashoba Tech, Groton High School, and Littleton High School to visit and bless the delivery bay walls with their creative brush.
The first school to visit was Nashoba Tech. Nathan Mehang visited with 6 seniors from his graphic arts class. Mehang and his students decided to paint a mural of the town of Littleton complete with some of its most notable landmarks, including Acton Toyota (of course), Kimball Farms, the Public Library, the town green, and many others. It took the Nashoba Tech team about 4 weeks from start to finish working approximately 5 hours a day for 4 to 5 days per week. Acton Toyota paid for all the supplies and provided the students lunch each day they were here.
Nashoba Tech's Final Product: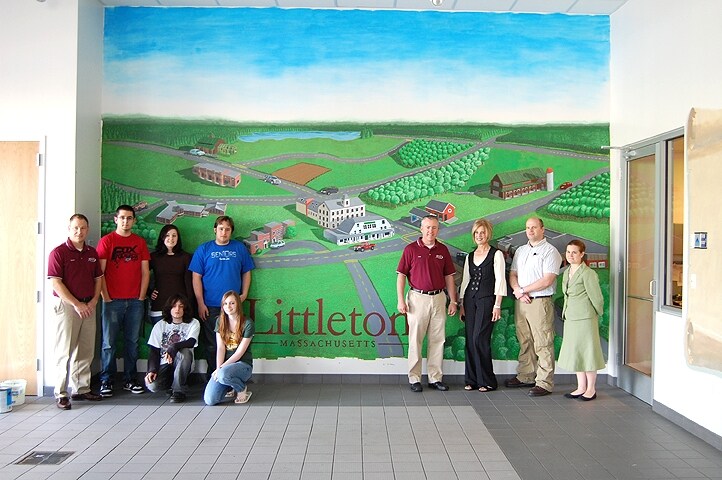 Additionally, the Groton High School has been marking the delivery bay walls with own artistic signature. Their theme centers around the Toyota Prius and its eco-friendly hybrid engine. The Groton High School has been working for a few weeks and once they've finished we'll provide you an update with complete pictures.
And in short time, Littleton High School will tackle the bare delivery bay walls.