Unfortunately and understandably, there is much confusion surrounding Toyota's two accelerator pedal-related recalls: 1. the sticky accelerator pedal recall (A0A) and 2. the carpet floor mat height clearance recall (90L).
With customer safety as our number
one
priority, Acton Toyota of Littleton would like to clarify both of these safety recalls and, most importantly, inform on when and how we will rectify these issues for you per Toyota instructions.
Sticky Accelerator Pedal Recall (A0A)
Certain Toyota models include accelerator pedal mechanisms that can, on very rare occasions, cause the accelerator pedal to stick in a partially open position. This unlikely issue is caused by a friction device within the pedal that is designed to provide the proper "feel" by adding resistance and making the pedal steady and stable. Over time, this friction device could cause the surface materials to stick and release instead of operating smoothly. In some cases, friction could increase to a point that the pedal is slow to return to the idle position. In the rarest of cases, the pedal could stick, leaving the throttle partially open.
This recall (A0A) consists of placing a small, engineered shim within the friction device of the accelerator pedal mechanism. While leaving the "feel" of the pedal unimpaired, the shim prevents the surface materials from rubbing, thereby, eliminating the chances of the accelerator pedal returning slowly to the idle position as well as sticking in an open position.
If you have a vehicle that falls under the sticky accelerator pedal recall, you will be pleased to know that Acton Toyota is now making repairs to these accelerator pedals. You do not need to wait until you receive written notification from Toyota to have your pedal corrected at our dealership. You can make an appointment online, through email at service@actontoyota.com, or by calling our Service Department at 978-263-4049.
Carpet Floor Mat Height Clearance Recall (90L)
Toyota has also issued a recall pertaining to a conflict in height clearance between the carpet floor mat and the accelerator pedal, also known as 90L. When "stacking" a floor mat on top of another (i.e. placing a winter/rubber floor mat over an existing carpet floor mat), there is a chance that the accelerator pedal could become wedged or lodged underneath the floor mat(s).
The repair for this recall (90L) includes cutting a bottom portion of the accelerator pedal itself and removing excess floor material directly under the accelerator pedal. As an additional safety measure, Toyota has also included as part of this recall a software upgrade to the vehicle's braking-system with coding to ensure brake input supersedes gas input when both are applied.
If you have a vehicle that falls under the carpet floor mat height clearance recall, please be advised that Toyota will remedy this recall on a rolling basis. Toyota will notify customers when it has equipped and trained dealerships to perform the recall. Currently, Toyota has issued repair for the Camry and Lexus ES300 models only.
Is my Toyota affected by either or both of these recalls?
Below is chart displaying which Toyota models are affected by these two recalls and whether our dealership can currently perform the specific recall.
You will want note that the 2007-2010 Camry is the only model where both recalls can currently be remedied. If you possess a vehicle where only A0A can be performed now, at your option you can wait for official notification from Toyota, or if you prefer, you can schedule an appointment to have A0A done immediately.
Again, you can make a Service appointment online, through email at service@actontoyota.com,or by calling our Service Department at 978-263-4049. Should you have any questions, please feel free to call and/or email us at any time. Additionally, we encourage you to check for updates on our website by clicking here.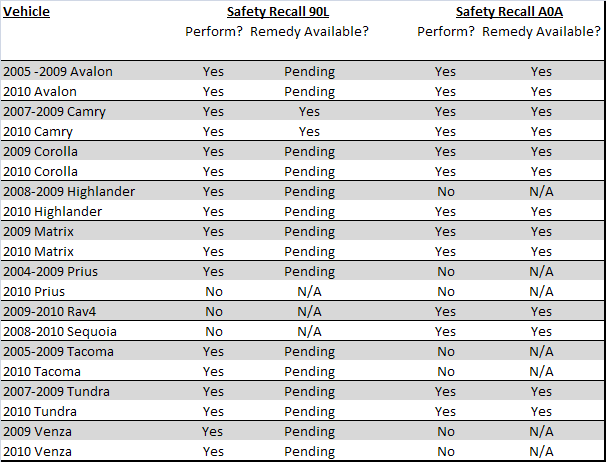 Please note that Japanese built Rav4, Corolla, Camry, and Highlander vehicles are NOT affected by the accelerator pedal recall (A0A). These Japanese built vehicles possess Vehicle Identification Numbers (VIN) that begin with the letter "J".
If you are not sure whether your vehicle falls under either 90L, A0A, or both, you are more than welcome to contact our Service Department. With your vehicle's VIN, our Service Department will be happy to help you clarify your vehicle's recall situation.